Product Categories: Click on your selection and Buy Now
We Sell And Recommend Protect.a.Bed Protectors The Worlds #1 Selling Protector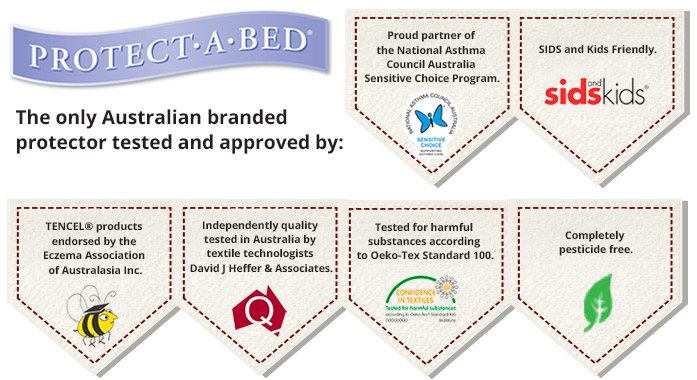 Do We Need Waterproof Protectors?
FACT: If you are not using waterproof protectors, after 10 years your mattress or pillow will have doubled in weight from dust mite faeces, mould & fungus, body fluids and dead skin cells. Do You Suffer From Asthma, Allergies, Bed Bugs, Dust Mites, Bed Wetting or Incontinence?
SOLUTION? Cover and Protect – The Bed Protector Specialists. We have a protector for all these problems.
Unprotected Mattresses
As many as 2 million mites have been counted in unprotected mattresses and it only takes 4 months for an unprotected mattress to become infested. (A major concern for asthma and allergy sufferers).
The Waterproof Mattress and Bed Protector Specialists
Cover and Protect sell and specialise in waterproof mattress and pillow protectors that are impermeable to dust mites, bed bugs, mold & bacteria, body fluids, spills & Stains. We sell a range of Italian made steam vacuum machines; we also offer a world first commercial ultraviolet mattress sanitising service, for the Sydney metro area. We supply Australia wide to Hotels, Motels, Resorts, Backpackers and Private residences with our extensive range of bed protection products.
Cover and Protect is 100% Australian owned business that is based in Sydney NSW and run by Anthony Karet. We sell Protect.a.Bed branded protectors which are the worlds #1 seller of bed protectors and distribute to 35 countries globally. We feel safe to sell their protectors to our customers as they have been tested & approved in Australia for harmful substances by 'Confidence in Textiles' and also approved by the Asthma Foundation, Sids for Kids, and the Eczema Foundation.