Product Description
                                                 Protect.a.Bed is Protectors Australia's # 1 Selling Protector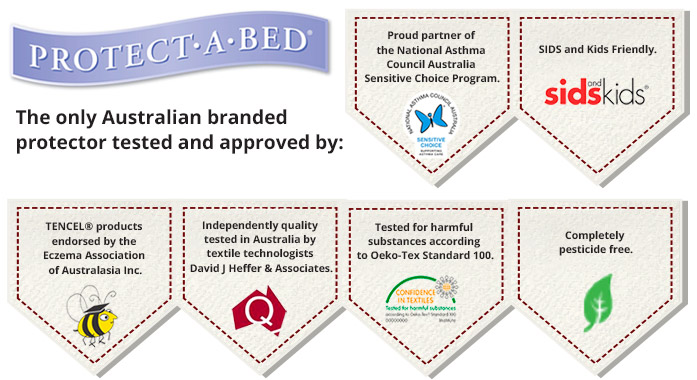 ALLERZIP Smooth Pillow Protector: Total Protection From Bed Bugs, Dust Mites, Perspiration Stains.
The perfect solution for Asthma and Allergy Sufferers.
Keep bed bugs, dust mites & allergens out of your pillows and Provide a healthy, allergy-free sleep area Where You need it most. These protectors-have a smooth surface of sleep & breathable waterproof backing with zipper closed. Optimum protection for bed made our ALLERZIP fully encased mattress protectors.
The Protect.a.Bed ALLERZIP pillow protector is the only protector tested & Approved by the National Asthma Council's Sensitive Choice Program, Sids for Kids, Confidence in Textiles and the Eczema Foundation.
Features
• Smooth yet absorb sleep area
• Ultimate bed bug dust mite allergy & protection for pillows.
• Waterproof yet breathable membrane barrier miracle allergy
• Protects from liquid & perspiration stains
•Approved by the National Asthma Council's Sensitive Choice Program
• Machine wash is hot, tumble-dry medium heat
• Standard Size 48x73cm