Product Description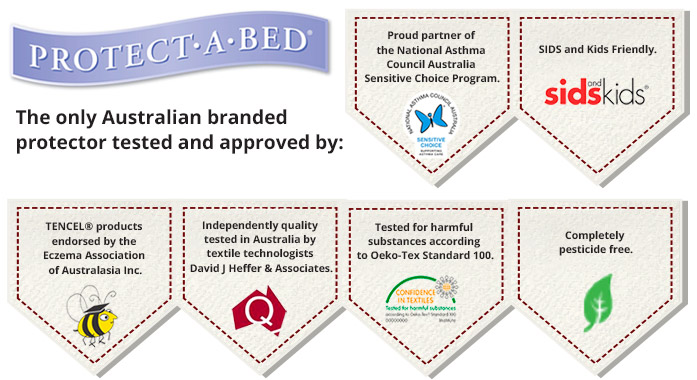 The Protect.A.Bed Staynew Smooth Doona /Quilt Waterproof Protector
Like your mattresses and pillows your quilts and doonas can be affected with dust mites,  allergens, bacteria, liquids or stains. Help to prevent these symptoms by fitting Staynew Smooth Doona Protector Quilt Protector.
Silent, breathable and waterproof quilt protectors from Protect-A-Bed, part of any healthy sleep zone. They protect your quilt from spills and stains, and you and your family from the allergens caused by dust mites, mould and bacteria.
Breathe-A-Vent technology ensures optimal ventilation while a secure clip system ensures quilts stability within the doona cover.
The Staynew Smooth Waterproof Doona Protector Quilt Protector  is made of natural materials over a breathable waterproof polyurethane protection backing. The polyurethane waterproof backing film called Miracle Membrane is exclusive to Protect·A·Bed and will protect your family from allergens, dust mites and bacteria. The Staynew Smooth Doona Protector Quilt Protector  do not feel like plastic and are not hot to sleep with.  They are air vapour porous, allowing your body heat to pass through the surface and keeping you cool and comfortable all night long. Fitting Quilt Protectors, mattress & pillow protectors will  promote a healthy and hygienic sleep environment for all your family.
Protect.A.Bed Staynew Smooth Doona /Quilt Waterproof Protector
Features:
 Smooth polyester sleep surface with a breathable waterproof Miracle Membrane® barrier backing

Place quilt inside protector and zipper close
Approved by the National Asthma Council

Ultimate allergy protection preventing bacteria and dust mites from breeding in your quilt.

Dust mite proof flap provides protection; prevents dust mite allergens entering or escaping through the zipper

Secureclip™ system placed on each corner and along each side ensures the quilt remains in place

Unique breathavent® for ventilation and superior comfort

Machine wash and tumble dry safe.

For total bed protection fit

 
For total protection fit Allerzip Smooth mattress and pillow protectors