Product Description

Protect.A.Bed is Australia's #1 Selling Protector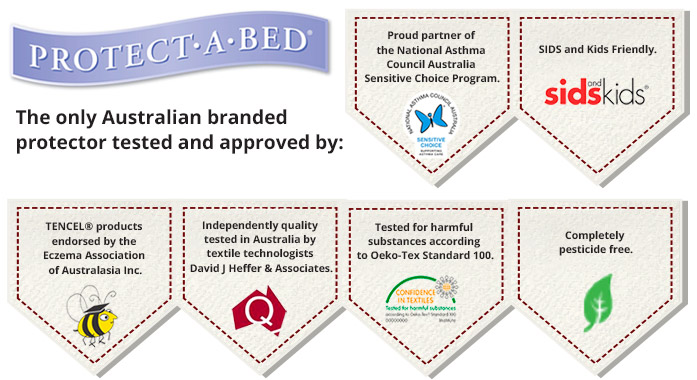 Waterproof Mattress Protector Comfortshield  Deluxe 
The Comfortshield Deluxe waterproof mattress protector has an adsorbent terry towel surface also features the grounbreaking  waterproof Miracle Membrane backing with Total Heat Transference Formula for ultimate dryness and comfort. The Miracle Membrane backing also lets air and body heat to pass through the membrane which keeps your mattress comfortable and not noisy to sleep on. The comfortshield Deluxe waterproof mattress protector also offers excellent protection from dust mites and other allergens providing a safe environment while you sleep. This fitted sheet style mattress protector fits perfectly on any mattress and is also easily removed for washing. Will fit mattress depths 20-40cm  Please Note: For toilet training or incontinence problems we recommend using Premium Terry Waterproof Mattress Protector for total protection. A thicker and more absorbent terry surface with the Miracale Membrane backing.
Have you purchased a new mattress?
You should never use a new mattress or pillow without a waterproof protector on it as stains build up very quickly. It can take just one single night sleeping on an unprotected mattress or pillow for it to become stained. Imagine you had bought a new mattress for your bed and used it on the first night without a mattress protector and became aware of something being not right or faulty with your new mattress, if it has any stains or marks on it, then the shop you bought it from can and will refuse to exchange it. So when buying a new mattress or pillows always fit a waterproof protector on it straight away. Don't take any risks.