Product Description
Protect.A.Bed is Australia's #1 Seller of Waterproof Protectors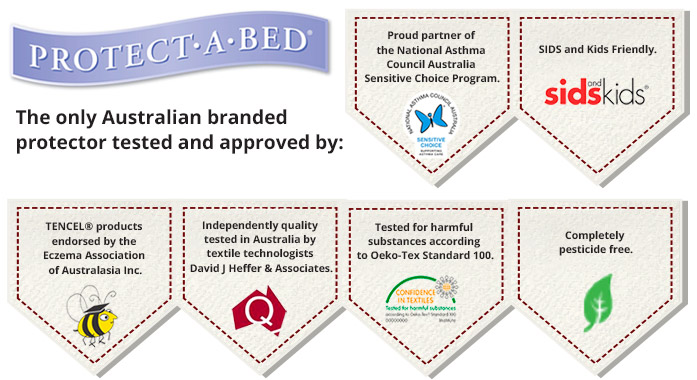 Staynew Smooth Dynatex Fitted Waterproof Mattress Protector features a soft and smooth polyester sleep surface and a waterproof breathable backing making this protector the best for everyday value. The Everyday smooth polyester fitted protector will help protect your mattress from spills and stains, and you and your family from the allergens caused by dust mites, mould and bacteria.
Features:
Soft and comfortable yet waterproof and breathable.
Protecting your mattresses from moderate spills and stains.
Protecting you and your family from dust mite, mould and bacteria allergens.
100% smooth polyester sleep surface, perfect for everyday family use.
100% Polyester fitted sheet style.
Electric blanket safe.
Machine wash and tumble dry.
Mattress protectors available in Single, Extra Long Single, King Single, Double, Queen, King
Approved by the National Asthma Council's Sensitive Choice Program
Why should we use waterproof mattress and pillow protectors? FACT: Every night the human body loses approximately a litre of body fluids through the skin pores and mouth, as well as millions of skin flakes, which are absorbed into your mattress and pillows, creating the perfect breeding ground for bacteria and dust mites (a major cause of Asthma, eczema and rhinitis.)  Waterproof protectors are not just for bed wetting or incontinence problems but will keep your beds in pristine condition. Your beds are a huge investment so it makes good sense to protect them with waterproof protectors. As many as 2 million dust mites have been counted in unprotected mattresses and it only takes 4 months for an unprotected mattress to become infested. It is not the dust mite that most people are allergic to, it is their fecal pellet they leave behind.